Tony B. Academic Travel Award
The Tony B. Academic Travel Award honors Tony Beugelsdijk, Los Alamos National Laboratory, an Association for Laboratory Automation (ALA) co-founder who passed away in August, 2009. Tony played a very inspirational and instrumental role in laboratory robotics and made significant contributions to ALA, the former LabAutomation conference and exhibition, and the scientific community as a whole. We are honored to remember him through a program that recognizes up-and-coming researchers who have demonstrated outstanding achievement in laboratory science and technology.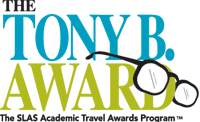 SLAS2017 Tony B. Award Recipients
62 Students will Travel to SLAS2017 through the SLAS Tony B. Academic Travel Awards Program
SLAS honors 62 undergraduate students, graduate students, post-doctoral researchers and junior faculty members with SLAS Tony B. Academic Travel Awards for SLAS2017.
The winners from 15 different countries earned invitations to present their scientific achievements at SLAS2017. Winners were determined by a panel of judges who conducted comprehensive evaluations of student abstract proposals and made selections based on scientific merit. Click here for complete details on this program.
Through the SLAS Tony B. Academic Travel Awards program, each will receive roundtrip travel (coach airfare or mileage reimbursement), shared hotel accommodations and full conference registration (which includes access to 140 podium presentations and hundreds of posters, 21 short courses, 300+ exhibitors and scores of other workshops, meetings and special events).
The Tony B. Academic Travel Award winners for SLAS2017 are:
Argentina
Federico Figueredo, Universidad de Buenos Aires (UBA)
Australia
Timothy Blackmore, The Walter and Eliza Hall Institute of Medical Research
Alice Bong, University of Queensland
Carrie Lovitt, Griffith University
Kym Lowes, Walter and Eliza Hall Institute of Medical Research
Melissa Sykes, Griffith University
Bilal Zulfiqar, Eskitis Institute for Drug Discovery, Griffith University
Brazil
Lucas Duarte, Federal University of Goiás
Jair Marques, Federal University of Goiás
Engy Shokry, Federal University of Goiás
Canada
Samantha Grist, The University of British Columbia
Sayyed Soroush Nasseri, University of British Columbia
China
Jingyu Zhang, East China University Of Science And Technology
Ying Wang, Fudan university
Germany
Sri Teja Mullapudi, Max Planck Institute for Heart and Lung Research
Michael Klinger, Fraunhofer Institute for Manufacturing Engineering and Automation IPA
Marc Daxer, Fraunhofer Institute for Manufacturing Engineering and Automation IPA
India
Durgesh Tripathi, Banaras Hindu University
Netherlands
Abidemi Junaid, Leiden University
Poland
Maja Haczyk, Warsaw University of Technology
Korea
Hyun Yong Jeong, Seoul National University
Dong Eun Suh, Myeongji University
Singapore
Tan Boon Toh, Cancer Science Institute of Singapore
Spain
Uxia Nogueira-Recalde, The Biomedical Research Institute of A Coruña (INIBIC)
Switzerland
Andrea Gasser-Weiss, Swiss Federale Institute of Technology (EPFL)
Patrycja Nowak-Sliwinska, The University of Geneva
United Kingdom
David Sykes, Nottingham University
Kristy Davidson, University of Dundee
United States
Vibhuti Agrahari, University of Missouri-Kansas City
Martin Brennan, University of Illinois at Chicago
Kevin Cash, Colorado School of Mines
Eun Ji Chung, University of Southern California
Ashley Fancher, University of Pittsburgh
Mike Garcia, University of California Santa Barbara
Shamal Gunawardhana Durayalage, University of Kansas
Stephanie Ham, The University of Akron
Nina Hua, University of Texas at Austin
Olive Jung, National Institute of Health
Reem Khojah, UCLA
Stanton Kochanek, University of Pittsburgh School of Pharmacy
Inae Lee, University of Hawaii
Andrea Mazzocchi, Wake Forest Institute for Regenerative Medicine
Sudip Mondal, University of Texas at Austin
Coleman Murray, University of California, Los Angeles
Misagh Naderi, Louisiana State University
Samila Nasrollahi, Washington University in St. Louis
Pradip Shahi Thakuri, The University of Akron
Robin Sweeney, The University of Arizona
Lana Thaljeh, Louisiana State University
Peter Torab, Penn State University
Andrew Urick, University of Minnesota
Samuel Vilchez, The Pennsylvania State University
Lisa Walter, University of Southern California
Brenton Ware, Colorado State University
Qingfu Zhu, Department of Chemistry, Wichita State University
Chueh-Yu Wu, University of California, Los Angeles
Ivan Pushkarsky, University of California, Los Angeles
Alejandro Chavez, Wyss Institute of Harvard
Manjima Dhar, University of California, Los Angeles
Shurong Hou, The Scripps Research Institute, Florida
Michael Floren, University of Colorado
Marie Malone, The Scripps Research Institute, Florida