SLAS2017 Student and Early Career Professionals Programming
SLAS is pleased to offer activities at SLAS2017 specifically designed by and geared towards attending students and early career professionals. These programs provide a focused, valuable experience for those considering and embarking on a career in the field of life sciences discovery and technology.
Attendee programming and benefits include:
Discounted Conference and Short Course Registration for Students
SLAS is pleased to offer discounted SLAS2017 registration fees to students. Student registration is available online. Following receipt of their registration and payment, students will be contacted for a copy of their valid student ID to verify eligibility for registration discounts. Student registrations will not be confirmed until a valid copy of student ID is received by SLAS.
Student conference registration does not include short course registration, though a discounted rate for short courses is also available to students. For complete details or to register, click here.
Career-Focused Programming
Students and Early Career Professionals can take part in SLAS Career Connections at SLAS2017. Career Connections is one of the select few, highly discreet, automated employment programs that brings together its online professional services with its respected career center and development sessions at SLAS2017. Expert-led career workshops offered at SLAS2017 in Washington, DC, include:

Joanne Kamens, Ph.D. Executive Director, Addgene will offer a two-part series this year:
Mentoring 101 for Scientists Part I — Finding mentors and being the best Mentee you can Be
Mentoring 101 for Scientists Part II — Best Practices for the Mentor (and anyone can be one!)
We all hear the buzzword of "mentoring" in relation to career success but most of us don't know how to look for a strong mentor or how to use one effectively once we have found one. These workshops give practical advice about finding, utilizing and being a mentor in a fun, interactive format. Come ready to practice mentoring on the spot both as a mentee and a mentor. There is no better way to learn to be a good mentee than to mentor someone else. Everyone has something to offer and can be a mentor to someone earlier in their career. Attend both sessions to get the most out of this training.

Daniel Gossett, Ph.D., Program Director, National Institute of Diabetes and Digestive and Kidney Diseases (NIDDK) will offer the session:
Grants Process and Funding Opportunities from the National Institutes of Health (NIH)
The National Institutes of Health (NIH) is the largest public funder of biomedical research in the world, investing more than $32 billion a year to enhance health, lengthen life, and reduce illness and disability. Laboratory automation and screening technologies have, and will continue to advance these goals, and NIH funding is available for research and development involving these technologies. This presentation will provide an overview of the NIH grants process, grant writing, and funding opportunities spanning research training and career development to research project grants (R01s) to small business grants (SBIR & STTR).

Colin White, Ph.D, Founder and CEO, White Consulting
Surviving a Non-Academic Interview: What to Say, and When
Interviews are notoriously nerve wracking for potential candidates, which often leaves them feel underprepared. In addition, mystery and an element of fear often surround the interview process, which can have a significant negative effect on job seekers performance. During this approximately one hour session we cover all aspects of an interview, from analyzing the questions being asked through directing the conversation towards where you feel most comfortable. We also teach techniques to alleviate stress before the interview, as well how to maximize the time you have available to learn more about the organization and follow up appropriately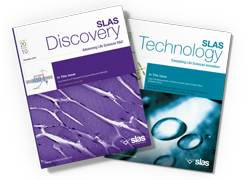 SLAS Discovery Editor-in-Chief Robert M. Campbell, PhD (Eli Lilly & Co.) and SLAS Technology Editor-in-Chief Edward Kai-Hua Chow, PhD (National University of Singapore)
SLAS Author Workshop: How to Prepare a Manuscript for Publication
Join the editors-in-chief of the SLAS journals for a step-by-step overview of how to design and write scientific research papers more clearly and effectively to improve their chances for publication. Attendees will learn what editors want, what they don't want, common mistakes, insider tips and how reviewers evaluate manuscripts.
Free Career Mentoring
Click here for complete information on the one-on-one career counseling sessions that are available.
Students and Early Career Professionals — Join the Fun!
Monday, February 6th from 5:00-6:00 pm: Student and Early Career Professional Mixer in the Member Center
Monday, February 6th from 6:30 - 8:30 pm: Off-Site Social Event at Lucky Strike (Student and Early Career Professionals only)
Make new acquaintances and catch up with existing friends at the Student and Early Career Mixer on Monday, Feb. 4 at 5:30 in the Member Center of the Exhibit Hall. See what's new with SLAS and what is in store for you during SLAS2017. Enjoy complimentary snacks and drinks.
After the close of the Exhibit Hall, all students and early career attendees are invited to walk over to Lucky Strike, where you can relax and mingle while enjoying an evening of bowling, snacks and beverages! The evening will include lane rental, shoe rental, as well as appetizers and non-alcoholic beverages. A cash bar will be available. Lucky Strike is located at 701 7th St NW, Washington, DC.
This evening is FREE to all student and early career attendees, but registration is required. Sign up here for this event.
Student and Early Career Professionals Membership
See what's new with SLAS! Join now to access to important programs and services that membership offers, including a direct connection to a network of peers and an array of resources that you can leverage to create pathways to success as a life sciences discovery and technology professional. SLAS offers Student Memberships for only $39/year and Early Career Professional Memberships for just $70/year. Members-only benefits of SLAS include:
Deeply discounted registration for SLAS conferences, exhibitions and short courses
Access to the SLAS Live and On-Demand Webinar series
Online access to JALA and/or JBS Online searchable scientific journal archives
Full access to SLAS Career Connections tools
Direct engagement with others through the SLAS Student and Early Career Professionals Committee and SLAS Special Interest Groups
Full access to a global network of like-minded professionals via the SLAS Membership Directory and Social Media Sites
Click here for more information on how to become a member of SLAS!