SLAS Member Center
The SLAS Member Center is the place for SLAS members — and those brand new to the Society — to learn everything there is to know about SLAS and the many year-round benefits and services available through SLAS.
Conveniently located in the SLAS2017 Exhibit Hall, the Member Center is the hub for SLAS information and activity, including: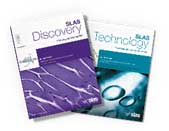 In addition, in the Member Center you can receive a guided tour of SLAS.org, a review of your SLAS member benefits, and some great giveaways. Members of the SLAS professional team are always available to answer questions and explain how SLAS can help you not only at the conference, but year-round.
Take Advantage of Free Career Services
The SLAS Member Center is the hub for career services at SLAS2017. Through SLAS2017 career services, professionals, job seekers and students can:
Browse job postings in our interactive Career Connections Center
Post resumes
Participate in the SLAS Mentoring Program. These 45-minute one-on-one mentoring sessions with professionals from a variety of experience and discipline backgrounds will be offered on a first-come, first-served basis. Click here to select a mentor and sign up for a free session.
For more information on Career Connections at SLAS2017, visit the "For Students and Early Career Professionals" page or contact SLAS Manager of Member Services Mary Geismann.
Live Podcasts from The Lab Man
SLAS Director of Education Steve Hamilton, Ph.D. (a.k.a. The Lab Man) records podcasts live from the SLAS Member Center. Watch in person while he talks with winners of the SLAS2017 Student Poster Competition, the SLAS New Product Award designation, among others. Listen to past Lab Man podcasts here.
The following live podcasts are scheduled for SLAS2017:
Monday, February 6:
5:00 - 6:00pm Interview with the Student Poster Winners
Tuesday, February 7:
10:00 - 11:00am Lab Man Interviews SLAS Discovery Editor-in-Chief Robert M. Campbell, PhD (Eli Lilly & Co.) and SLAS Technology Editor-in-Chief Edward Kai-Hua Chow, PhD (National University of Singapore)
5:00 - 5:30pm Lab Man podcast with Beth Berry - SAGE Kudos program
Wednesday, February 8:
10:00 - 11:00am Lab Man interview New Product Award winners
Student Poster Award Winners
Dozens of undergraduate, graduate and post-doctoral students participate in the SLAS2017 Student Poster Competition. A panel of judges selects the top three during the Monday poster presentation session, with winners announced at the Member Center on Monday, Feb. 6. These winners will be featured in a Lab Man podcast live in the Member Center following the announcement.
New Product Award Winners
The SLAS New Product Award (NPA) Designation will be presented to as many as three winning product entries at SLAS2017. Over 60 entries will be reviewed carefully by a panel of judges during the exhibit hall hours. The three winning companies will be recognized in the Member Center on Wednesday, Feb. 8 at 9:15 am, followed by an interview with The Lab Man for his live Podcast Show.
SLAS2017 Passport to Prizes
Entries to the SLAS2017 Passport to Prizes program are collected in the SLAS Member Center during exhibit hours. Prize winners are drawn from all entries received during contest hours. The prize drawing takes place on Wednesday, Feb. 8 at 11:45 a.m. and winners must be present to claim their prizes.
Watch Washington DC's Elite FIRST Teams
F.I.R.S.T. (For Inspiration and Recognition of Science and Technology) was founded in 1989 by inventor Dean Kamen to inspire an appreciation of science and technology in young people. The FIRST Robotics Competition is a global experience that helps young scientists see the value of education and careers in science, technology, engineering, and math. SLAS is once again proud to welcome award winning Team Illusion, #4464 to demonstrate their robotic creations at SLAS2017. Stop by to meet these remarkable students at SLAS2017.
Job Seekers
Job Seekers may submit resumes online through the SLAS website and on-site at SLAS2017 in Washington DC, browse the interactive job boards, meet one-on-one with a career coach and recruiting professionals. Job Seekers may submit resumes online through the SLAS website here.
Online Résumé Submission
Connect with prospective employers attending SLAS2017
Search Jobs Available at SLAS2017
Free! One-to-One Career Coaching Sessions
Human Resource Professionals and Recruiters
With over 5,000 participants expected to attend SLAS2017, the SLAS Career Center substantially narrows the applicant pool to very qualified prospects. Your company can conduct highly confidential professional in-person interviews, and have a major presence in a discreet, yet friendly setting that nurtures networking and relationship building. SLAS2017 posting packages are available. Post now for the best rates.
Get started today! Create your SLAS Career Connections Account now.